Here, I am going to show how to make an excellent Pan Fried Portobello Mushroom Burger.
Pan Fried Portobello Mushroom Burger
PREP TIME: 10-15 mins
Easy
SERVES: 2
Soy sauce, Lime juice, Dijon mustard, Portobellos mushrooms and Vegetables makes a delicious Pan Fried Portobello Mushroom Burger recipe.
Ingredients
1/4 cup low sodium Soy sauce
2 tbsp Lime juice
1 tbsp Dijon mustard
1/2 tsp Garlic powder
Pepper to taste
4 Portobellos
mushrooms washed
4 Red Onion slices (thick)
Vegetables
Nutrition Facts
1 burger : 448 cal
Carb: 45 gm
Protein: 17 gm
Fat: 27 gm
Procedure
Portabello mushrooms are perfect healthy veggie burger option especially for those who are on a diet. Whip up a quick avocado and yogurt sauce to go with it.
Before starting cut off the mushroom stems and wipe off any dirt with a paper towel. Do not rinse portobello or if you are too finicky about it, rinse with cold water and then dry it with a wet towel. Portobello soaks water like a sponge, so never soak it for any dish.
Tip: You can save the mushroom stems in the freezer along with other vegetable leftovers to prepare vegetable stock later or you can also use the chopped stems in an omelet.

The real key to a really meaty juicy and delicious portobello burger recipe is in its marinade. To prepare the marinade first follow the steps in the pictures below.
Step 1
Take a flat bowl and pour 1/4 cup (330 ml) soy sauce in it.
Step 2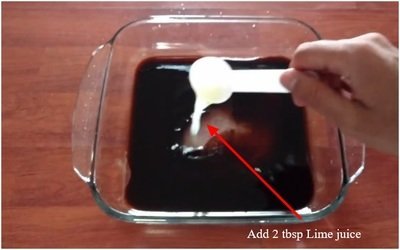 Add 2 tbsp lime juice
Step 3
Add 1 tbsp Dijon mustard.
Step 4
Next add 1/2 tsp garlic powder and pepper to it.
Step 5
Mix these ingredients well and the marinade is ready.
Step 6
Take 4 cleaned portobello and dip them the mixing bowl one by one.
Step 7
Add 4 thick Red Onion slices over the portobello mushrooms in the mixing bowl and cover all with marinade.
Step 8
Let it marinate for 30 mins.
Step 9
Get a frying pan and cook the portobello mushrooms and the thick-sliced onions 5 mins per side or till the juices from the mushroom dries up and the mushrooms become soft. If needed, you can add more marinade to it while cooking.
Step 10
Take the burger bread, place the mushrooms and the onions between the bread. If you want, you can add any mix as the topping, I often make a classic mix of mayo, lettuce tomato, and onion slices.
Step 11
Garnish with veggies and red onions.
Tip: Have leftovers? Refrigerate them and they are good to consume within three days. If you are really busy and short of time, grill the mushrooms ahead of time, refrigerate them, and heat them up for serving later.
The delicious Portobello Mushroom Burger is ready to savor. How easy was that? Anyone can make this.
Roasting the portobellos makes them flavorful as it brings out all of their juices. Also if done in this process there are no smoky grills to deal with.
As mentioned before you can add any toppings you like for example – top it with honey mustard and some veggies and if you don't mind the fat, add a slice of white cheddar melted on top. Yummy! That would be a killer!
Does the recipe use some special kind of bread? I want to prepare this for my vegan friend.

If you want to make it vegan, just make sure the bread doesn't have animal ingredients like milk, whey, eggs. There should be plenty of options in supermarkets or online like this one. For vegan omit the yogurt sauce or make a vegan version of the sauce with non-dairy soy or coconut milk yogurt.
I don't have Dijon mustard, Can I use yellow mustard? What is the difference between dijon mustard and yellow mustard?

Yes, you can use yellow mustard if you don't have dijon mustard. Dijon mustards are made with white wine along with the hotter brown and/or black variety of mustard seeds.
What is a healthy alternative to soy sauce?

If you don't want to use soy sauce you can use Brag's Liquid Aminos which has much less sodium than soy sauce. But it does contain soy so if you are looking for an alternative due to soy allergy it is not the right substitute. You can use Worcestershire sauce mixed with a little water instead.
Let us know if you prepare the burger this way in the comments below and don't forget to rate it!