Lemongrass, ginger, and the chilies give this aromatic soup a unique flavor making it a perfect light dish for lunch or dinner.
Oyster Mushroom Lemongrass Soup
PREP TIME
15-20 mins
Easy
SERVES
2
Oyster Mushrooms, Corn Starch, lemongrass, Ginger makes an excellent Oyster Mushroom Lemongrass Soup.
Ingredients
1 Pack (8 oz or 226 gm) of Oyster Mushrooms
2-3 tbsp Corn Starch
3-4 cups of Water
3-4 inches of lemongrass
1-2 tbsp Ginger
Chili Peppers
Cilantro for garnish
Green onion for garnish
Nutrition Facts
100 gram of Oyster mushroom is just 33 calorie with 6 gm carb, 3,3 gm protein, and 0.41 fat.
Lemongrass a rich source of minerals like potassium, zinc, calcium, iron, manganese, copper, and magnesium. 1 ounce of lemongrass provides 28 gm calories, 1 gm protein 0f fat.
Procedure
This lemongrass soup is not only refreshing and healthy, but it is also a great option for people who are looking for different recipes to lose weight.
Step 1
Cut the oyster mushroom into smaller pieces. You can keep it larger if you like it that way.
Step 2
We will use ginger lemongrass in the soup and garnish it with green onions, cilantro, and Chili Peppers.
Step 3
Heat up 4 cups of water. Let the water boil and then we will put it in the mushrooms.
Step 4
While the water is boiling cut the ginger and lemongrass. You can cut the ginger in any size you prefer. I like smaller pieces and will thinly slice them up. If you don't like the taste of ginger you can definitely omit this. But for this soup ginger definitely makes it better.
Step 5
Cut the lemongrass into about 3 inches long. You will get lemongrass in Asian markets. It gives a tangy lemony flavor to the soup and is a vital ingredient for this soup recipe. It's best to use fresh lemongrass from the market but if you can't absolutely get it you can use the next best option from Amazon here.
Step 6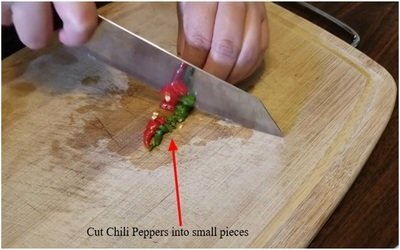 Next chop the chili into small pieces. You can put this as much as you want because this is just garnishing for your dish. Set these aside.
Step 7
By this time water should have boiled. Go ahead and pour the hot boiled water in the mushroom.
Step 8
Add the lemongrass and the ginger you have chopped before and let it boil for 5 to 10 minutes.
Step 9
Cook for a few more minutes and then add salt according to your taste.
Step 10
While this is boiling prepare the corn starch.
For cornstarch, I have used Great Value cornstarch but any kind of corn starch will work.
Step 11
I like my soup to be quite a bit starchy so I am going to add 3 big tablespoons. If you like the soup to be more liquidy add less cornstarch. Add one cup of water to the cornstarch and mix it well. Or if you don't want your soup to have any corn starch at all omit cornstarch.
Step 12
After 5 minutes of boiling on high heat add the corn starch. Remember to stir continuously so that corn starch doesn't clamp up.
Step 13
Once this boils we are good and the soup is ready. Add chili pepper and cilantro and green onion for garnishing.
What does lemongrass taste like? Does it taste like lemon?

No lemongrass does not taste like lemon. While it has a citrusy flavor it tastes more like a mix of lemon and lemon mint. It does not overpower other flavors in a dish but gives a distinct aroma to the recipe like this oyster mushroom soup. It is widely used in Asian dishes especially Thai food.
Other benefits of lemongrass: It contains antioxidants which boost the immune system. It is also known to stimulate bowel function & improve digestion.
How to tell if an oyster mushroom is fresh?

Fresh oyster mushroom will have dry skin. If the texture feels slimy it is on its way to going bad real fast. It's best to consume the oyster mushroom soon after purchasing. If you cannot use it immediately it is better to dry it before storing.
Is this recipe gluten free?

Yes, cornstarch does not contain gluten. But if you want, you can leave the cornstarch out of this dish to have a more healthier refreshing version of this oyster mushroom and lemongrass soup.