Are you a snacker? If you thought you can't snack on a whole30 diet without cheating , there's good news for you. This big list of whole30 snack ideas have got you covered and are so delicious that you won't miss the food that are not allowed in whole30 diet.
So let's begin…
Best whole30 snacks for work
Garlic Lime Sweet Potato fry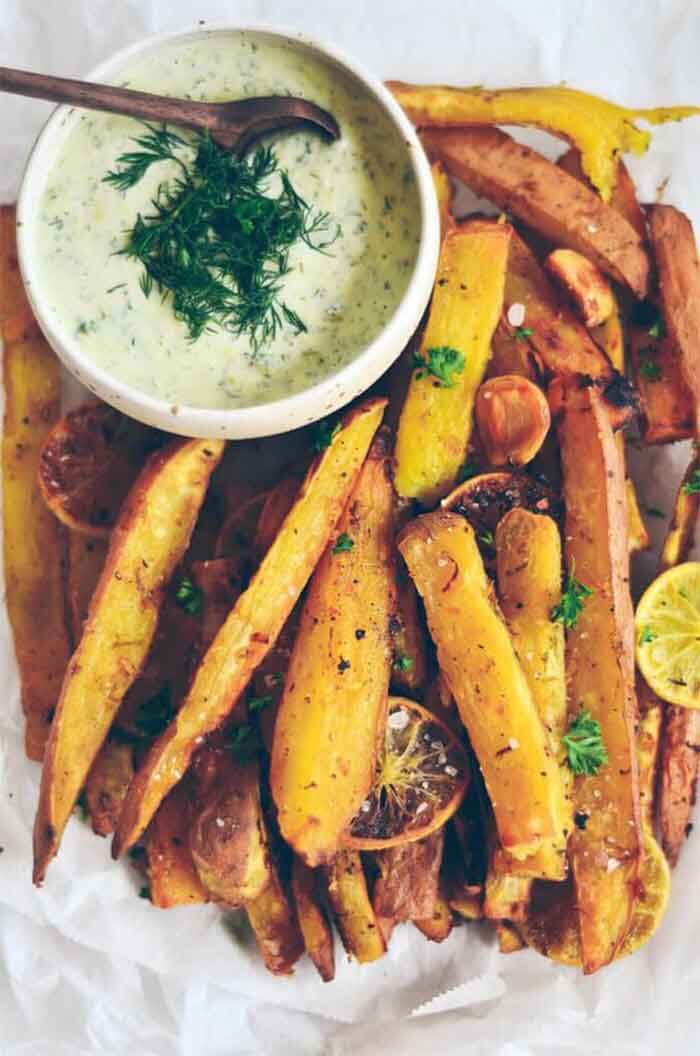 It's a delicious crunchy snack that you can take to your work . Easily made with 4 ingredients – tapioca flour, garlic, lime zest, and olive oil – and of course sweet potatoes. Check out the preparation method here.
Chocolate Cherry Nut Free energy Bites
Fried Plantains
Sausage Pizza Egg Muffin
Best whole30 snacks to buy from Amazon
Desk snacks are difficult when you are on Whole30 diet. They should not be messy, sugar-free- grain-free to follow the guideline and have good shelf life. Luckily here are five best whole30 snacks to buy from Amazon to keep you feeling sated and not crave for that cupcake or pizza slice.
Roasted Seaweed snack
These grab and go whole30 compliant snack packs are so delicious for seaweed lovers that you feel like eating it whole day. No sugar , made with olive oil instead of cheap vegetable oil, great for your blood chemistry. Buy it from Amazon here.
Almond butter Squeeze pack
Great portable snack to carry in your pocket . Bring these with an apple to eat for lunch or If you travel extensively and try to have a clean whole30 diet. Just throw a bunch of these packets in your laptop bag and you have a good, high quality, snack any time and any where you need it. Get yours from Amazon here.
Olive marinated with basil and garlic
If you are working at feeding yourself "clean food" these are perfect snack to carry. The packaging is good enough to keep the olives juicy without being messy. Grab few packs here.
Organic Apple Sauce
As per Whole30 guidelines, it would be better to skip the sauce and eat a whole apple instead. But at times we have to give in to the craving and it is better to have this unsweetened snack-able applesauce than grabbing some unhealthy food. You can probably transfer these to reusable containers, but the packaging allows to grab one for lunch.
Grain free Whole30 compliant Granola
Only granola on the market with no added sweeteners, oils or extracts and grain free. It's a blend of nuts, organic dried fruits and spices. It's ready to go and unlike cereals that needs to be soaked in milk. Great for those mid afternoon hunger pangs.
Whole30 party snacks
Turkey and sweet potato sliders
Smoky Ranch Chicken bites
Sriracha Deviled Egg
Pork stuffed Jalapeño Peppers
Whole30 protein snacks
Home made whole30 protein bar
Whole30 Pumpkin Protein bar
This no bake whole30 protein snack is made completely in food processor and takes few minutes to make. Can be eaten right away but best if refrigerated first to firm it up . Get the simple recipe here.
Whole30 Chocolate Coconut Bites
These protein packed whole30 snacks is made with nuts and seeds. Easy to make with minimal ingredients. You can store these for a week if put in airtight container on fridge. Recipe here.
Whole30 dessert for sweet cravings
Almond flour Brownies
This is made with almond flour, unsweetened cocoa powder, coconut sugar and eggs as main ingredients. Get recipe here.
Cherry banana ice-cream
Made with just 2 ingredients , this is a clean eating , delicious whole30 dessert to mitigate your sweet craving. Whole thing is made in a food processor in just few minutes. Get more details here.
Key lime Pie bites
Using pecan as base it is packed with hemp seeds and dates. Can be stored for more than a week if put in airtight container in fridge. Full recipe here.
Another sugar less whole30 dessert to fulfil you sugar craving,  The cocoa gives these healthy cookies a chocolatey zing and the bananas and raisins give a boost to the sweetness. Get the recipe here.
Coconut chia seed pudding
Just add some unsweetened shredded coconut, black chia seeds, a pinch of salt and about 3/4 of a cup of full fat coconut milk to a small mixing bowl. Stir well . You are done! Check for more variation of the recipe.
Have your own whole30 snack ideas? Feel free to add in the comment section. Happy clean food snacking!