If you have no heating option or microwave available at your work place, or too busy to cook a lunch everyday at home, cold lunch is the way to go. But it does not mean you will have to feed day- after -day on sandwiches or left-over from last night . We have got you covered. Most of these cold lunch ideas are not only healthy they are also perfect for people who don't have time to spend hours in kitchen.
Cold lunch ideas for husband
If your husband is on-the-go most of the day, he needs cold lunches that can be eaten without microwaving. Here are 3 cold lunches which are fast and easy to prepare too.
Salami and Cream Cheese Rollups
Cream cheese and salty taste of salami is a stellar combination. You can add whatever you want into the filling .
Chicken salad on crackers
You can make it with canned chicken. Just drain it, add mayo and boiled egg. Add a packet of cracker to your husband's lunch box and you are good to go.
Cold Chicken pasta salad with side
Pair it with slices of fresh mozzarella and hard boiled eggs
Cold lunch ideas for construction workers
Construction workers burn as much as three times more calories per hour as compared to people working a desk job. Therefore, they need a hearty lunch that will fill them up and keep their energy high for the rest of the workday. So here are some cold lunch ideas for construction workers that are portable and do not require heating.
Soup in Thermos
Ok, this is not a cold lunch but no need for heating as you can put it in thermos. Make home made ramen noodle soup with fresh veggies in a savory broth. Toss in leftover chicken for a little extra protein.
Chickpea Sabarma Wrap
It takes less than 30 minutes to prepare and a few ingredients. It's a perfect, 'filling' , high protein cold lunch idea for construction worker . Check out the simple preparation method here
Sweet Potato Black Bean Quesadillas
It's easy to make in big quantities on Sunday night, does not dirty lot of dishes (the filling is made in a single pot) and does not need much time. Check out the recipe here. Though it is generally eaten hot but tastes fine if eaten off the lunch box.
Ceaser Salad Chicken , Kale wrap
It takes about 10 minutes to prepare and is another good option for cold lunch box.
Keto cold lunch ideas
If you are on Keto and looking for cold lunch options here are some perfect keto recipes for you that are good to eat in room temperature.
Bacon, Avacado and Goat Cheese Salad
Creamy avocados , goat cheese with the crunch of nuts. Yummy! Can be made in few minutes and delicious to eat. Check out the recipe here
Keto Chicken Lettuce Wrap
You can use curried chicken or prepare a simple sauce for the chicken by mixing peanut butter, stevia for sweetness, soy sauce and Sriracha. Put the lettuce wraps in a zip lock if you are on the road and you have healthy keto lunch ready to eat when you are hungry.
Keto Grilled Vegetable Salad
It tastes super at room temperature, so take it with you to work or school as a healthy lunch on the go. You can prepare it in a big batch and store this salad up to 3 days in the refrigerator. Check out the recipe here
Cold lunch ideas for picky eaters
If your children are picky eaters , one way to handle it is to allow them to make their own lunch! All of a sudden they find it interesting to try just because it was their idea.
So here are 4 cold lunch ideas for picky eaters that even your child can prepare.
Tuna Salad Cucumber bite
Sandwich is one of the most common cold lunch given to children but it need not be boring. If your child is bored with the bread, allow them to prepare cucumber tuna bites instead. Mix together coconut oil mayo, black pepper and tuna in a bowl. Scoop it on sliced cucumber .
Grilled Chicken Cesar Salad
In a large bowl put in your lettuce and precooked grilled chicken . Let your picky eater mix salad dressing of choice .Add black pepper, Parmesan Cheese and squeeze fresh lemon . Done!
Tortilla Rolls Ups
Lay the tortilla flat, start with a spread like salsa, pasta sauce or any other sauce of your choice. Add filling like ham, cheddar cheese, red onion and ranch mix.
Or, how about another type of filler with pasta sauce, pizza toppings and shredded cheese? Let your child choose the different filler mix!
Cold vegetarian lunch ideas
Vegetarian cold lunch does not mean you have to eat boring salad day after day. Here are 4 cold vegetarian lunch ideas to spice up your lunch time
Sweet Potato Noodle Stir Fry
You can add lot of veggies of your choice . You can make a whole bunch of this for dinner and pack the extra for lunch. Check out the preparation method here
Spinach Artichoke and Goat Cheese Quiche
You can prepare this before the week starts, slice it up and pack it to have during the week. Get the recipe here.
Vegetarian Lettuce Wrap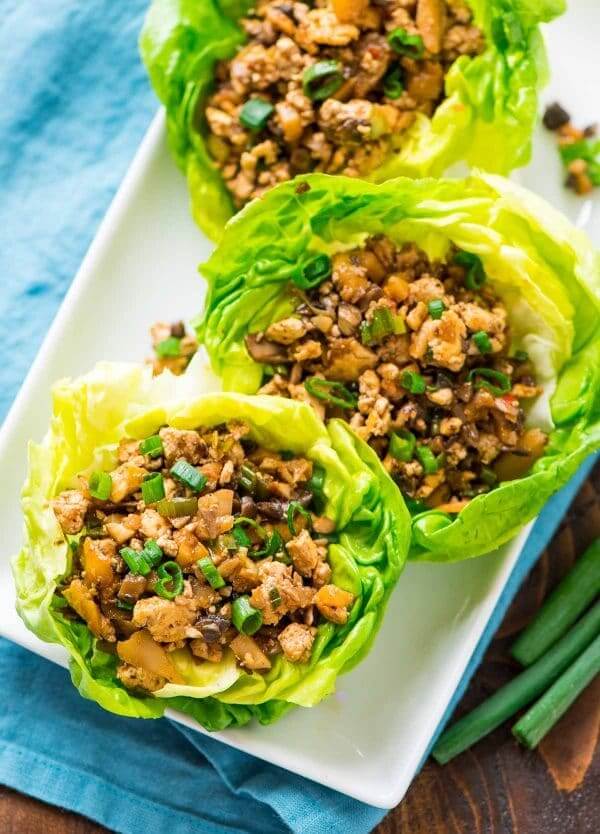 The filling is made with tofu and mushrooms as ingredients and the dressing is done with hoisin, soy sauce, rice vinegar, and sesame oil. Check out the complete recipe here
Portobello Mushroom Tacos
This marinated mushroom can be put in a collard green leaf or in a lettuce wrap and you have a healthy , tasty vegetarian cold lunch option at your hand. Get the recipe here
Have your own cold lunch ideas? Share it with us!